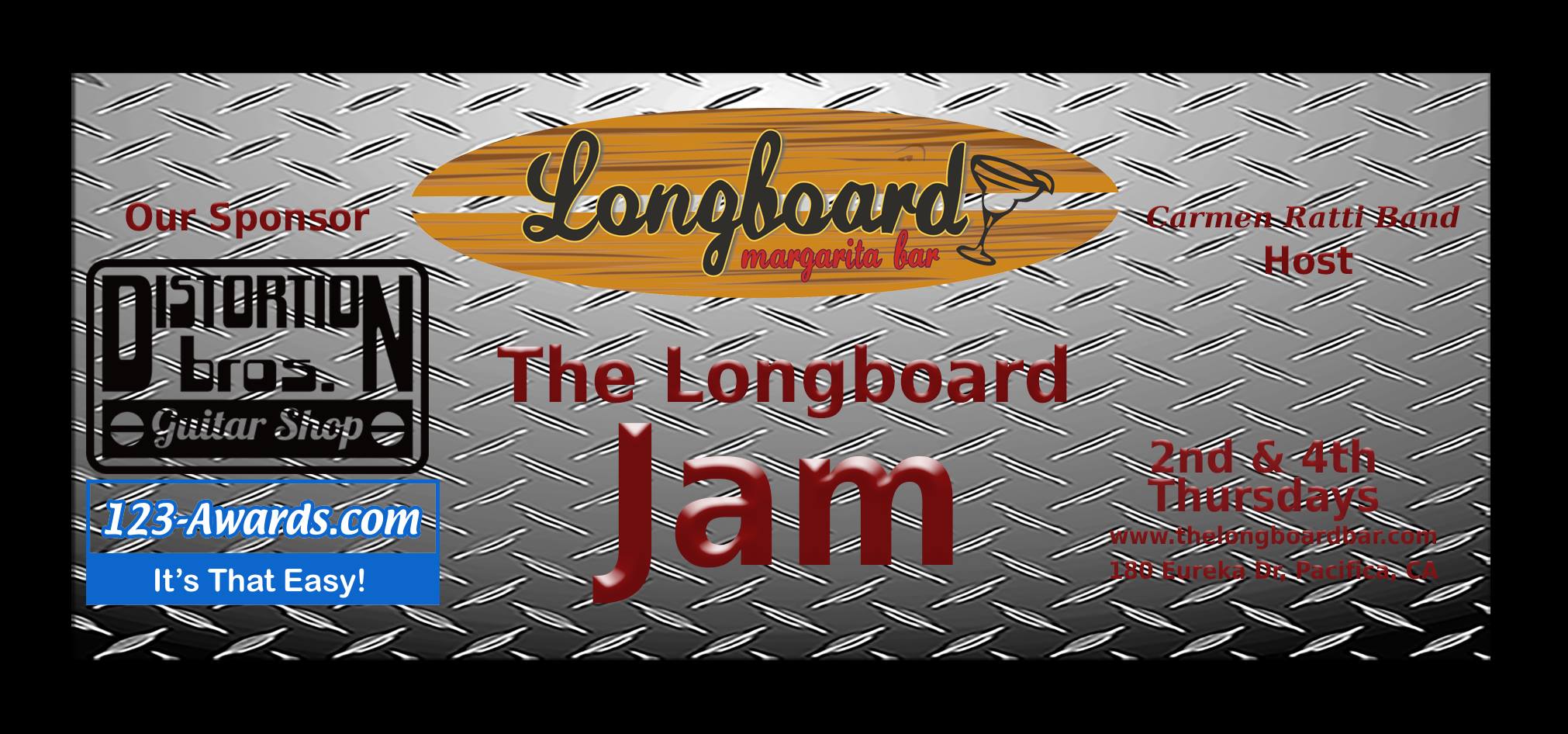 Longboard Margarita Bar presents Longboard Jam hosted by Carmen Ratti Band featuring Fillmore Slim on THURSDAY, MAY 9TH at Longboard Margarita Bar in Pacifica, CA! The Carmen Ratt Band hosts this FREE blues jam every 2nd and 4th Thursday featuring a different top blues artist from the Bay Area every show. This week's artist is none other than the legendary San Francisco pimp, blues guitarist and vocalist Fillmore Slim. Come in and have a drink or two or three and enjoy the music and atmosphere.
NO COVER! DRINK SPECIALS! GREAT BLUES MUSIC!
SHOW INFO
Fillmore Slim w/ Carmen Ratti Band
Doors/Show – 8:00pm
Ends – 12:00am
Bar stays open until 2:00am
Ages 21+
ARTIST INFO
FILLMORE SLIM – (SCROLL DOWN FOR CLICKABLE LINKS)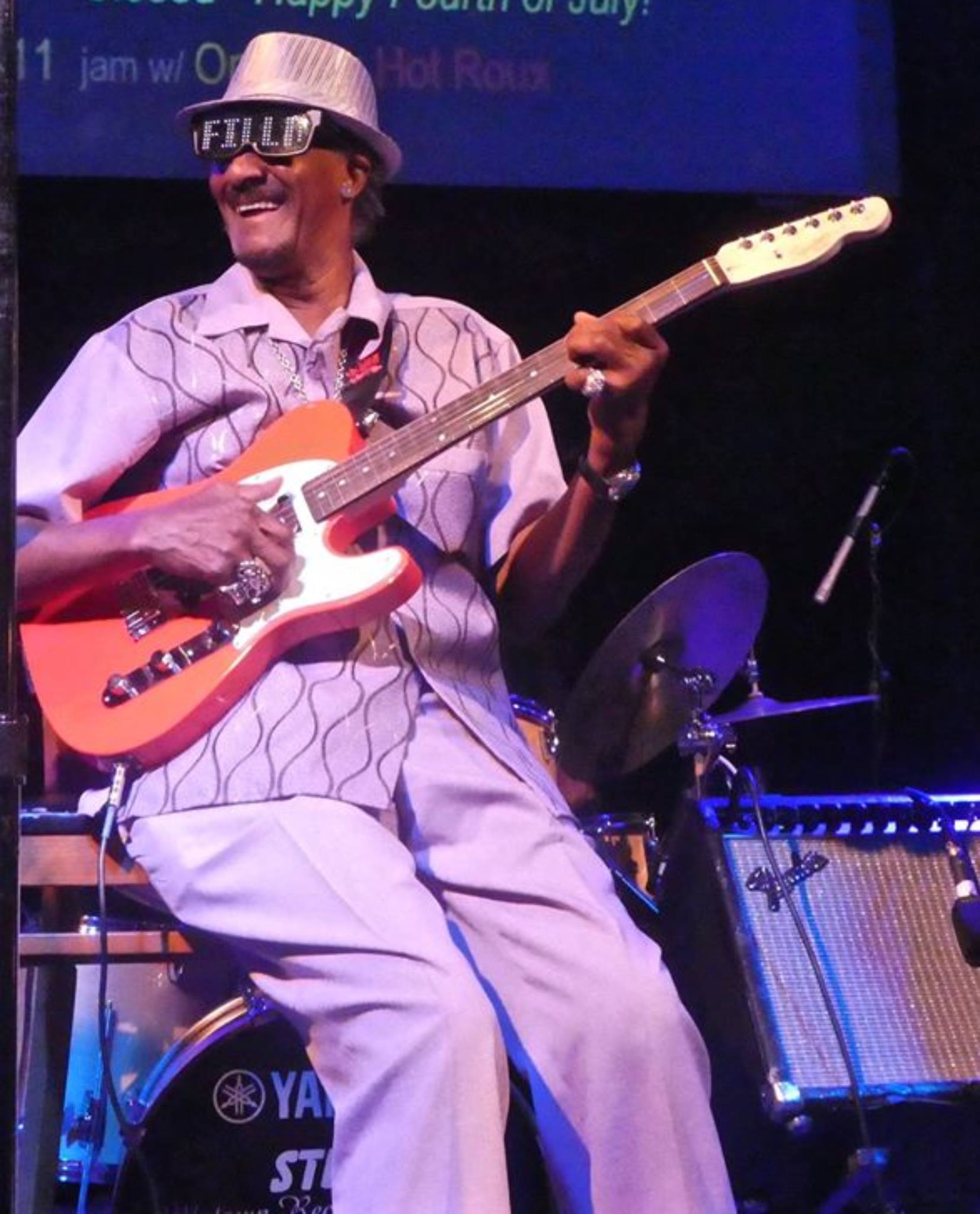 Born and raised in New Orleans, Louisiana, United States, Fillmore began learning about the blues at an early age. "I done lived the blues," he once said in an interview. "The blues is about picking cotton, working in the fields, living in the streets, and you know I did all these things."
In 1955, he moved to Los Angeles to pursue a musical career, playing by himself in the street and later starting a band called Eddy N and The Blues Slayers. During this time he had a relationship with Etta James before she achieved her fame as a blues singer and recorded a few 45 rpm records himself. His most successful record from this time was titled "You Got the Nerve of a Brass Monkey".
Fillmore's life took a dramatic turn when one night while playing a blues bar in Midland, Texas, he noticed a young woman who kept coming in and out of the bar. As he tells it, "Finally, she came up to me and said, "I like you. I want you to have this money." I asked her how she got all that money. She finally told me she was a hooker. I asked her what a hooker did, and she broke it on down for me." Upon returning to California, he relocated to San Francisco, bringing the girl along with him for extra income. He continued working as a musician, playing in Fillmore District clubs like the Trees Pool Hall and the old Fillmore Theater. He even scored gigs opening for B.B. King and Dinah Washington.
Eventually, however, Fillmore found the lure of pimping too strong and effectively left music behind. He built up a stable of prostitutes and had anywhere from ten to twenty-two women working Fillmore Street every day. His wardrobe consisted of sharkskin suits, alligator shoes, and diamond watches, and he could often be seen cruising up and down Fillmore Street in a new Cadillac. In the documentary American Pimp, Fillmore estimates that, in his entire career as a pimp, he had over 9,000+ prostitutes.
Fillmore Slim became friends with Eli's owner Troyce Key, who admired Slim's musical stylings and eventually recorded his first album called Born to Sing the Blues (as Clarence "Guitar" Sims), released in 1987.
In 1996 Fillmore Slim updated/re-released, Born to Sing the Blues, on the Mountain Top label. Several years of touring and playing gigs followed, which led to a record deal in 1999 with Fedora Records and an album called Other Side of the Road, released in 2000. Fillmore has released more albums/CDs in the years since with a trilogy of CDs on Mountain Top Records: The Game, The Legend of Fillmore Slim, and The Blues Playa's Ball; that tells his story in his own words and music. Fillmore Slim's songwriting talents and musicianship have garnered several awards including being inducted into the Bay Area's West Coast Blues Hall of Fame in 2008, and the Lowell Fulson "Jus' Blues" Award in Memphis in 2011.[citation needed] Since his musical resurgence, Fillmore has found his largest fanbase to be in Europe, where he's played the Zurich Blues Festival and the Blues Estafette in Utrecht, Holland, and France, among others.

CLICKABLE LINKS
WEB – www.fillmoreslimmusic.com
FB – www.facebook.com/fillmoreslimmusic
YouTube – www.youtube.com/channel/UCEtzamEoSzYHmcH1i_8_Oug
Spotify – open.spotify.com/artist/6e9nPZoDNeVhL3lvwKd8nr?autoplay=true&v=A
Pandora – www.pandora.com/artist/fillmore-slim/ARZhjwl3cdq4vn9
Google Play Music – play.google.com/music/preview/A3rdhn5da5yl3qbub72pebpc3ca?play=1&u=0
Deezer – www.deezer.com/us/artist/811186?autoplay=true
iHeartRadio – www.iheart.com/artist/fillmore-slim-60412/
Apple Music – itunes.apple.com/us/artist/fillmore-slim/98928413?ign-gact=3&ls=1
TuneIn – tunein.com/artist/Fillmore-Slim-m481279/?autoplay=true
CARMEN RATTI BAND – (SCROLL DOWN FOR CLICKABLE LINKS)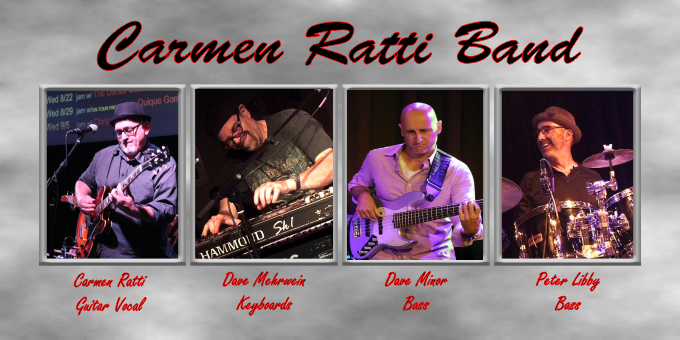 The Carmen Ratti Band started its journey by Carmen bringing together top hired guns to host a local pro blues jam, at the newly remodeled Longboard Margarita Bar in Pacifica. The model was in place to bring the Bay Areas top blues artist as a guest of the jam, thus needing to put together a stellar crew to qualify the event. Moving forward with the new crew CRB hits the local music scene with a blaze. Moving into its 2nd year CRB now brings an awesome pallet of blues, funk, R&B and, blues rock. Look for a diverse buffet of energized music to move your soul.
CLICKABLE LINKS
WEB – www.carmenrattiband.com
FB – www.facebook.com/BLUESCRB/
ReverbNation – www.reverbnation.com/DCPE