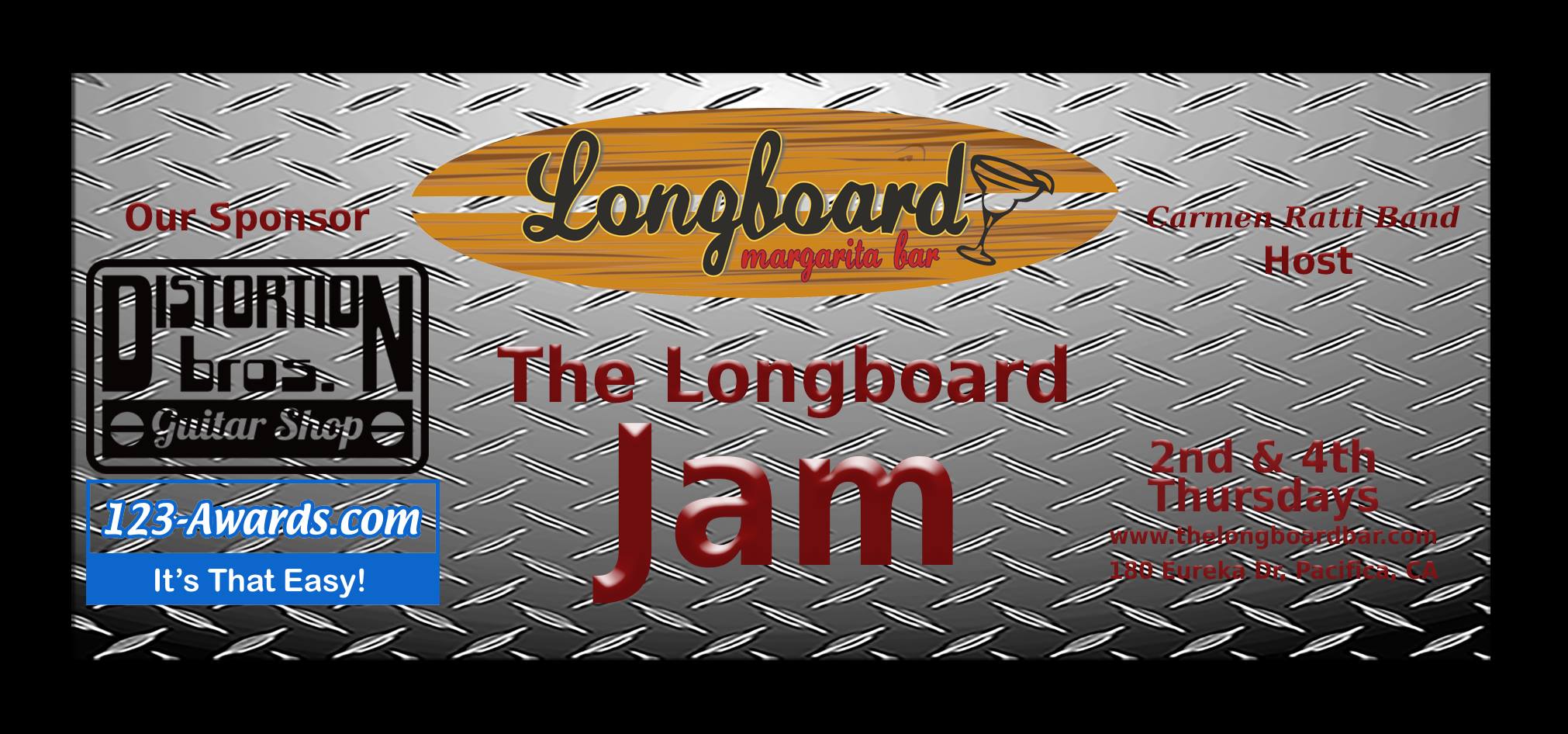 Longboard Margarita Bar presents Longboard Jam hosted by Carmen Ratti Band feat. Chris Cobb on THURSDAY, JUNE 27TH at Longboard Margarita Bar in Pacifica, CA! The Carmen Ratt Band hosts this FREE blues jam every 2nd and 4th Thursday featuring a different top blues artist from the Bay Area every show. Come in and have a drink or two or three and enjoy the music and atmosphere.
NO COVER! DRINK SPECIALS! GREAT BLUES MUSIC!
SHOW INFO
Chris Cobb w/ Carmen Ratti Band
Doors/Show – 8:00pm
Ends – 12:00am
Bar stays open until 2:00am
Ages 21+
ARTIST INFO
CHRIS COBB – (SCROLL DOWN FOR CLICKABLE LINKS)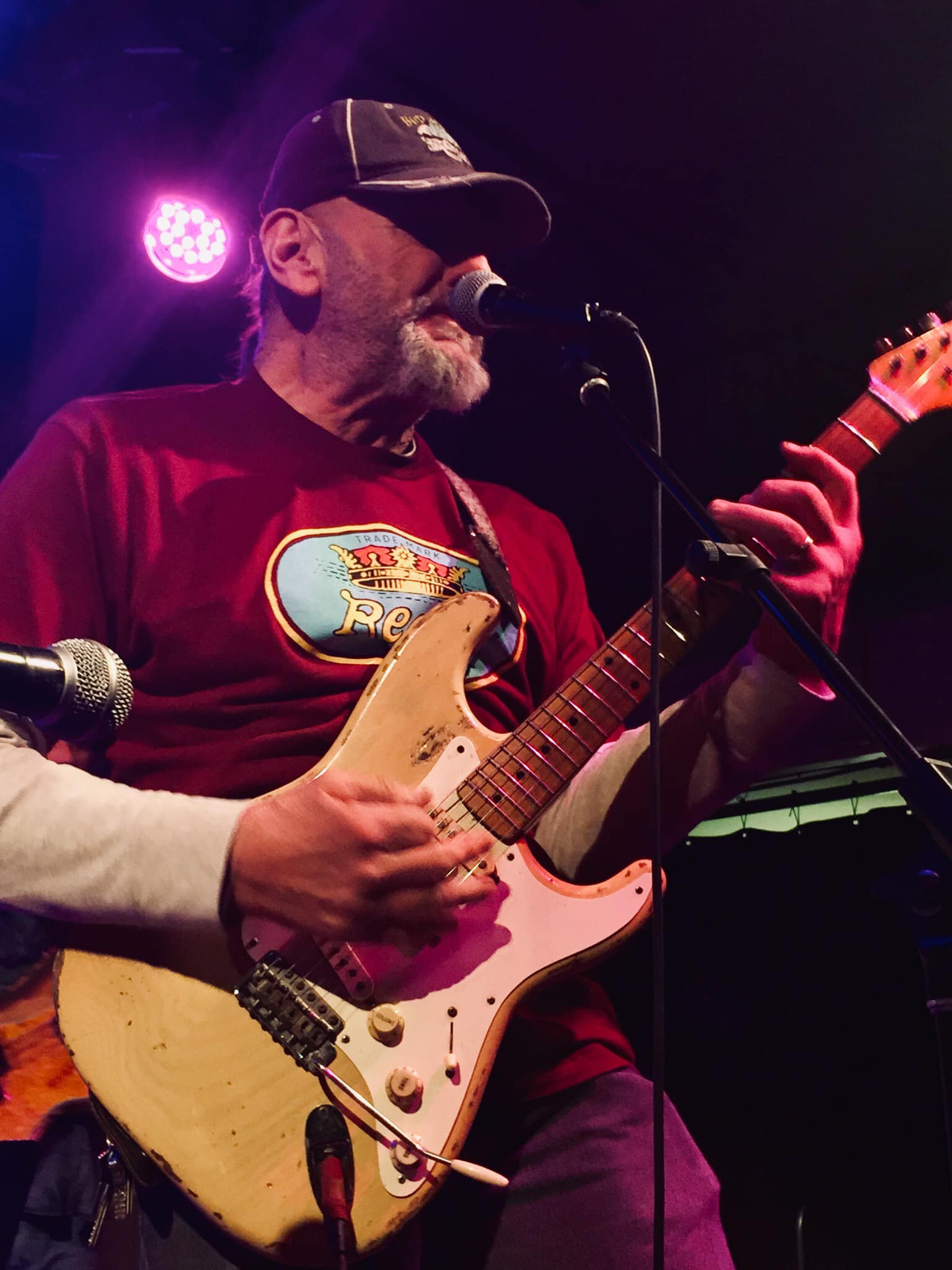 The Chris Cobb Band is a San Francisco based blues/rock band that proudly walks in the footsteps of the 80's Blues Revival. If bands like The Fabulous Thunderbirds, ZZ Top, The Allman Brothers, and Stevie Ray Vaughan are your kind of blues, you will soon add The Chris Cobb Band to that list. They have released two full-length records, 1995′s C.C.'s Blues and 2004′s Other Plans.
Chris Cobb (Guitar and Vocals) moved to San Francisco from Orange County, CA in the mid 70′s. Over the years he has played with many Bay Area luminaries such as Stu Blank, Pamela Rose, Mitch Woods, and Mark Ford. He started fronting his own band in 1988 but also found time to play and record with E.C. Scott and then toured and recorded with Sista Monica from 2001 to 2005.
Jesse Cobb (Guitar and Vocals) has been in his father's band for over three years and playing guitar since he was 13. His first performance was at the Delta Blues festival was in 2008 with the band Blue Horizon, led by Johnny Nitro. Since then he has played venues such as Slim's, the Great American Music Hall, and Cafe Du Nord. His guitar influences include Duane Allman, Roy Buchanan, Jimi Hendrix, and Danny Gatton. In his free time, he enjoys writing, complaining, and cougars.
CLICKABLE LINKS
WEB – www.sfblues.net/ChrisCobb.html
FB – www.facebook.com/cobberdude1
CARMEN RATTI BAND – (SCROLL DOWN FOR CLICKABLE LINKS)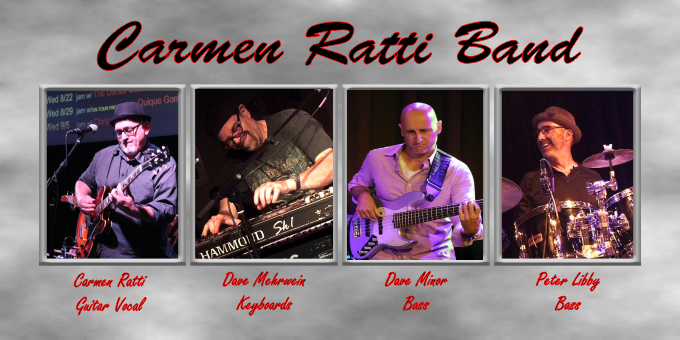 The Carmen Ratti Band started its journey by Carmen bringing together top hired guns to host a local pro blues jam, at the newly remodeled Longboard Margarita Bar in Pacifica. The model was in place to bring the Bay Areas top blues artist as a guest of the jam, thus needing to put together a stellar crew to qualify the event. Moving forward with the new crew CRB hits the local music scene with a blaze. Moving into its 2nd year CRB now brings an awesome pallet of blues, funk, R&B and, blues rock. Look for a diverse buffet of energized music to move your soul.
CLICKABLE LINKS
WEB – www.carmenrattiband.com
FB – www.facebook.com/BLUESCRB/
ReverbNation – www.reverbnation.com/DCPE