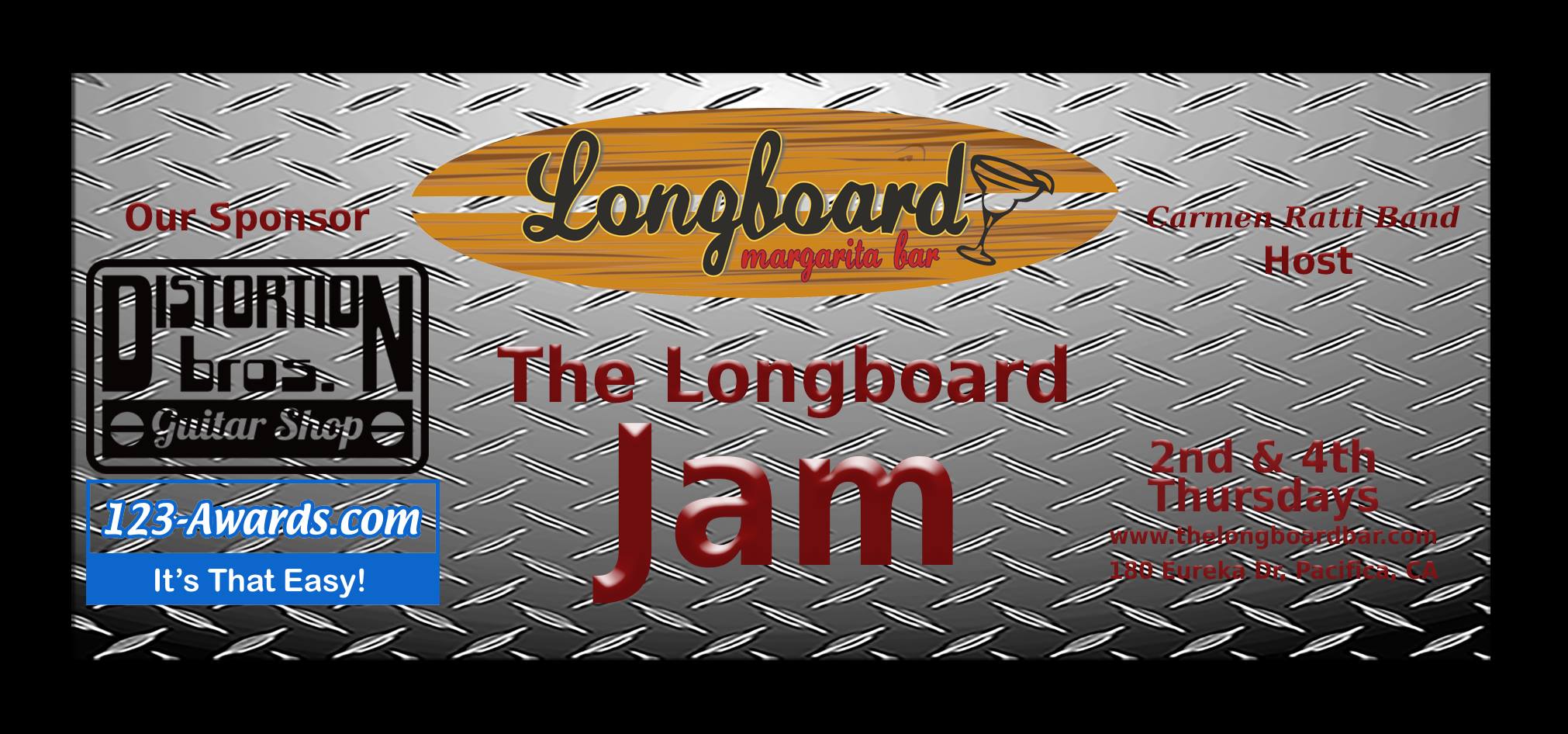 Longboard Margarita Bar presents Longboard Jam hosted by Carmen Ratti Band feat. Alvon Johnson on THURSDAY, SEPTEMBER 26TH at Longboard Margarita Bar in Pacifica, CA! The Carmen Ratt Band hosts this FREE blues jam every 2nd and 4th Thursday featuring a different top blues artist from the Bay Area every show. Come in and have a drink or two or three and enjoy the music and atmosphere.
NO COVER! DRINK SPECIALS! GREAT BLUES MUSIC!
SHOW INFO
Alvon Johnson w/ Carmen Ratti Band
Doors/Show – 8:00pm
Ends – 12:00am
Bar stays open until 2:00am
Ages 21+
ARTIST INFO
ALVON JOHNSON – (SCROLL DOWN FOR CLICKABLE LINKS)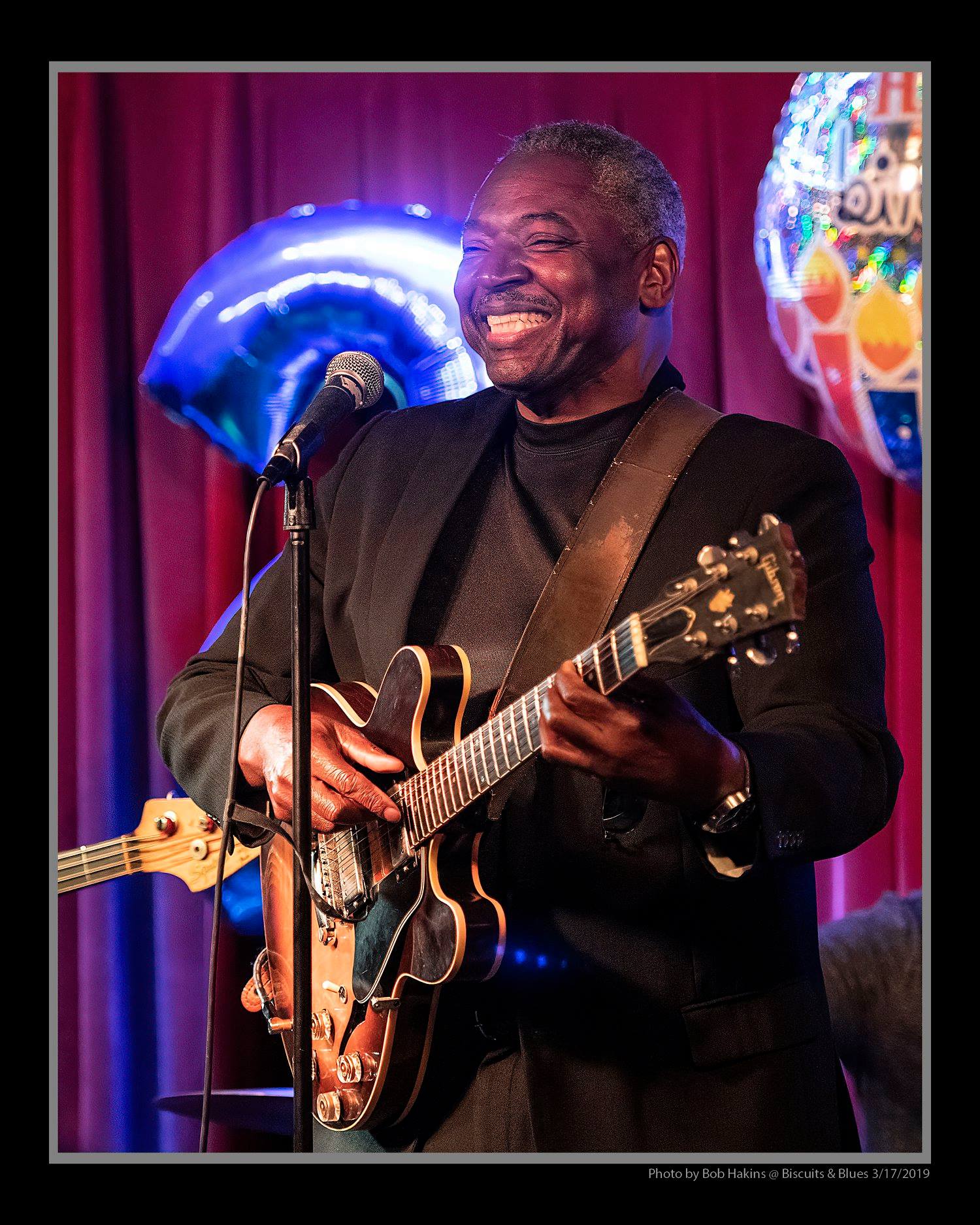 One of the most versatile Musicians, Singers, and Entertainers on the music scene today.  He travels the world singing and swinging Jazz standards with Big Bands. He also gallops the globe performing the songs that he sang while working with the Rock and Roll Hall of Fame group, The Coasters.  When he travels to Russia he is referred to as the "King of the Blues" and the "Ambassador of the Blues". His love and respect for the American art form is shared by large and enthusiastic audiences the world over.
• Recipient of the Music Icon Award from the Black Music
Association & Academy of America in 2015
• Recipient of the Best Male Blues Artist from the Black Music Association & Academy Of America in 2015
• Voted 2005 Blues Guitar Player of the Year
• The former vocalist with the Rock and Roll Hall of fame group "The Coasters"
• Regional winner of the Guitar Centers "King of the Blues" national contest in 2006 and 2007
• His CD "The Blues Grew up was nominated for Outstanding Blues Album of 2004 Voted as one of the top ten CD's in Japan in 2005
• His incredible CD "Guitars and Cars", was voted in the top ten CD's of 2008 by the prestigious Blues magazine "Real Blues "
• Nominated for the Entertainer of the Year Award with the "International Music and Entertainment Association"
His early musical influences were Guitar players such as Wes Montgomery, Andre Segovia, Charlie Christian, and of course Jimi Hendrix. His vocalist influences were Frank Sinatra, Joe Williams, Johnny Hartman, and Nat King Cole. He has performed with many well-known artists, including The Drifters, The Coasters, The Shirelles, Bobby Day of Rocking' Robin fame, and Jimmie Rodgers of Country and Western fame.
Alvon Johnson sought out, and learned, at the feet of many icons of the Blues, including John Lee Hooker, Pee Wee Crayton, Little Joe Blue, Harmonica Fats, Frankie Lee, Guitar Shorty, Lowell Folsom, and Buddy Ace.
Known for his comedic style, Alvon Johnson worked with many comedians such as Renaldo Rey, Robin Harris, Skillet and Leroy, and Lawanda Paige (Aunt Ester), from the Redd Foxx show.
Having the opportunity to work with these outstanding comedians helped him to develop his own style of comedy which served him well as a vocalist with the Rock and Roll Hall of Fame group "The Coasters".
Alvon Johnson has become a highly respected international Singer, Musician, and Entertainer. Whether he sings with Big Bands performing the great material of the American Song Book or the Low Down Blues, Alvon Johnson is an artist whose act should not be missed. He tours constantly on the international level as well as nationally in such places as Russia, Spain, Africa, Hungary, Portugal, Poland, Malaysia, China, France, Italy, Japan, Singapore, New Zealand, Europe, Canada, The Bahamas, and Australia. This is a true showman, and he gives his all in his performances. If you have not been to one of his shows, you owe yourself this one pleasurable evening with a man that can change your life in just one night. You will be glad you did.
CLICKABLE LINKS
WEB – alvonjohnson.com
FB – facebook.com/ALVONJOHNSON
CARMEN RATTI BAND – (SCROLL DOWN FOR CLICKABLE LINKS)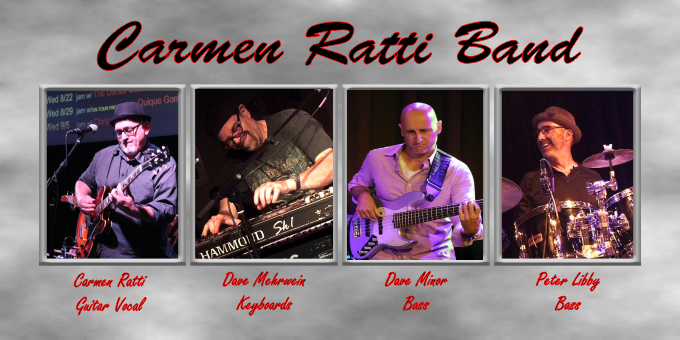 The Carmen Ratti Band started its journey by Carmen bringing together top hired guns to host a local pro blues jam, at the newly remodeled Longboard Margarita Bar in Pacifica. The model was in place to bring the Bay Areas top blues artist as a guest of the jam, thus needing to put together a stellar crew to qualify the event. Moving forward with the new crew CRB hits the local music scene with a blaze. Moving into its 2nd year CRB now brings an awesome pallet of blues, funk, R&B and, blues rock. Look for a diverse buffet of energized music to move your soul.
CLICKABLE LINKS
WEB – www.carmenrattiband.com
FB – www.facebook.com/BLUESCRB/
ReverbNation – www.reverbnation.com/DCPE