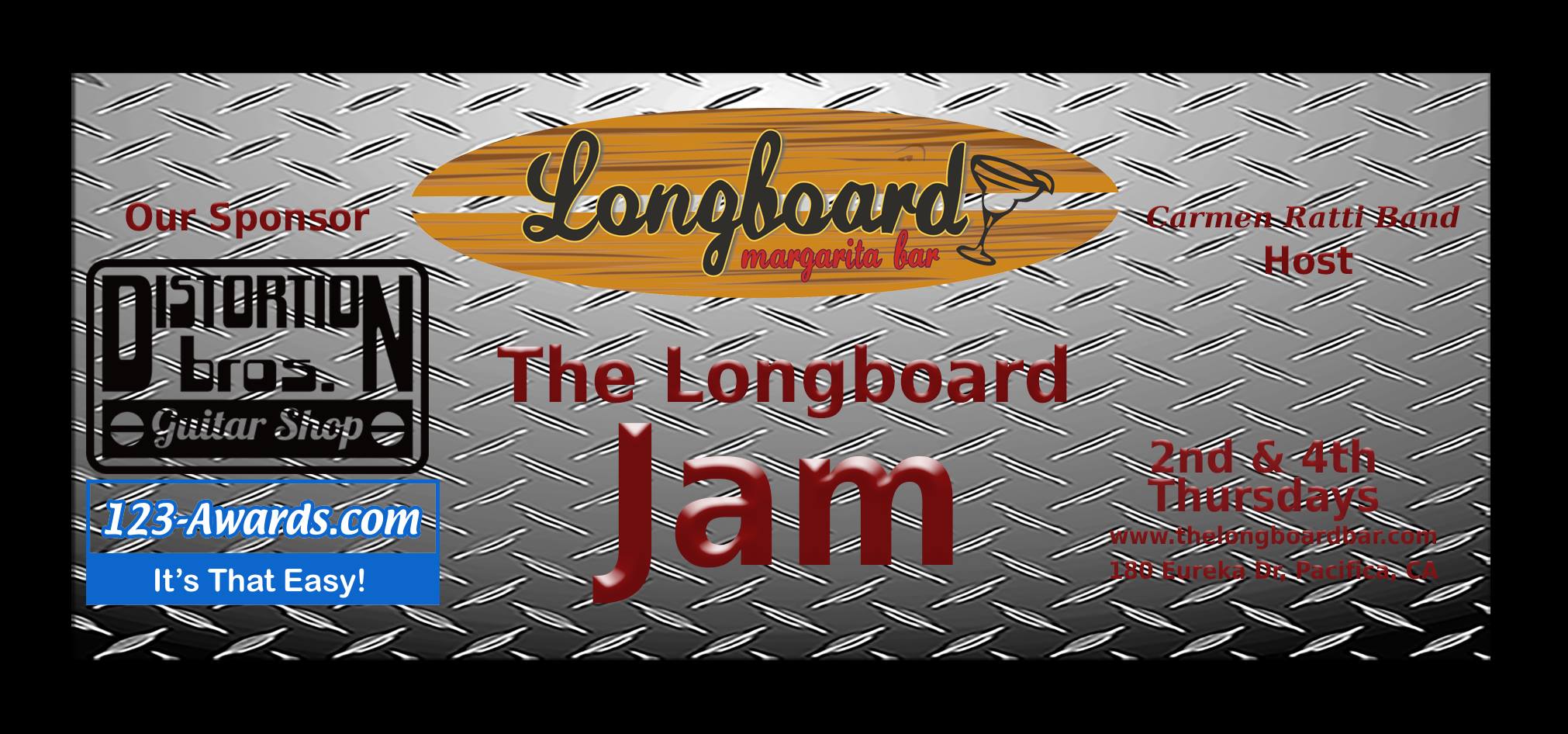 Longboard Margarita Bar presents the Longboard Jam One-Year Anniversary hosted by Carmen Ratti Band featuring Daniel Castro on THURSDAY, JUNE 13TH at Longboard Margarita Bar in Pacifica, CA! The Carmen Ratt Band hosts this FREE blues jam every 2nd and 4th Thursday featuring a different top blues artist from the Bay Area every show. Come in and have a drink or two or three and enjoy the music and atmosphere.
NO COVER! DRINK SPECIALS! GREAT BLUES MUSIC!
SHOW INFO
Daniel Castro w/ Carmen Ratti Band
Doors/Show – 8:00pm
Ends – 12:00am
Bar stays open until 2:00am
Ages 21+
ARTIST INFO
DANIEL CASTRO – (SCROLL DOWN FOR CLICKABLE LINKS)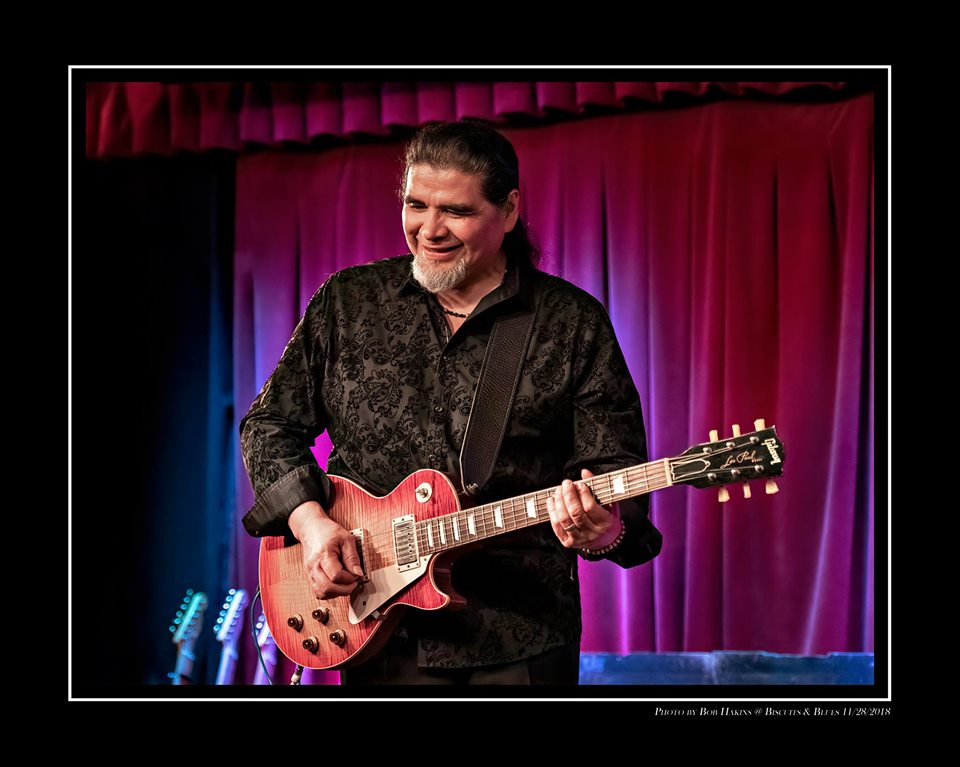 Daniel was born in Ensenada, Baja California and also lived in Tijuana. The family later moved to Buena Park, California when Daniel was eight. Even as young kids, Daniel and his older brother Mario wanted to play guitar. "In Tijuana, we found an old piece of plywood in a field. We took it home and cut two guitars out of it, painted on the knobs and pickguard, and strung some fishing line with nails on them." After bugging their mother and father for years they finally got their first real guitar from Sears – a St. George electric guitar with no amplifier. The brothers shared the right-handed guitar, which was no problem for Mario who was right-handed but a huge problem for Daniel who was a lefty. Daniel's brother would laugh at him while he tried to play it upside down, so he finally taught himself to play right-handed. Daniel's older sister, Jypsy, who was singing in a band, introduced Daniel to all the big soul stars at the time and taught him to play Jimmy Reed riffs in the key of E. Jypsy also gave Daniel two BB King records and "when I heard that Lucille vibrato, that was it…it made me cry."
In 1969, Daniel's brother Mario was killed in a car accident. Daniel was fifteen at the time.  "I was sitting on the curb in front of our house after my brother's funeral and a friend came up and said 'Daniel you take that guitar and play your heart out for Mario wherever you go.'" And that's what Daniel's been doing ever since.
As he grew up in the L.A. area, Daniel was heavily influenced by the blues greats Albert King, B.B. King, and Albert Collins. As a kid, Daniel would hang outside clubs like the Golden Bear in Huntington Beach to hear these blues legends perform and wait for a glimpse of them through the curtains. After cutting his teeth in South Central L.A. blues clubs with "Mighty Mouth" Delmar Evans, who worked with the Johnny Otis Show, Castro backed other great artists from Otis' band, including Pee Wee Crayton and Little Esther Phillips. He also recorded and toured with many other artists including legendary Small Faces singer-bassist Ronnie Lane.
Moving to the San Francisco Bay Area in 1995, Daniel formed The Daniel Castro Band and quickly became a hot draw in the burgeoning local blues scene. In 1999, Daniel recorded his first release, No Surrender, followed in 2003 with Live at The Saloon, a double CD recorded at San Francisco's oldest bar and the mecca for the blues faithful. Both CDs highlight the talents of Daniel's playing, songwriting, and arranging and feature stellar performances by some of the Bay Area's best sidemen.
In 2011, Daniel began looking to form a new band. He had always been surrounded by great players but wanted to focus on his original material, which required working with musicians that shared his passion, would commit to strenuous rehearsals, and had the natural chemistry needed to help him realize the music's potential. Daniel began getting together with bassist Johnny Yu, whom he had played with in the past and who had recorded several cuts on his "No Surrender" CD. They quickly became a team, working out arrangements to many of Daniel's new original tunes and forming the nucleus of the new band. Daniel and Johnny began performing as a trio, using a platoon of drummers as they searched for the elusive third member of the band. In early 2012, Johnny reconnected with drummer David Perper, whom he had worked within a variety of settings over many years. David got together with Daniel and Johnny at their rehearsal space and it soon became obvious to all that they collectively had something unique. With Johnny and David, Daniel has an intuitive and explosive rhythm section, able to anticipate each other's moves and support Daniel's music as it deserves. "We have something special. It's hard to describe, but we feel it and so do our audiences. We've all come from different backgrounds and our personal stories vary. We all come to this band with our past and are forming our future."
CLICKABLE LINKS
WEB – www.danielcastro.com
FB – www.facebook.com/daniel.castro.374
CARMEN RATTI BAND – (SCROLL DOWN FOR CLICKABLE LINKS)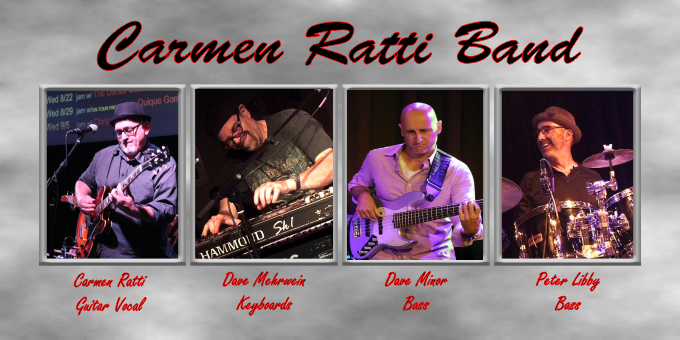 The Carmen Ratti Band started its journey by Carmen bringing together top hired guns to host a local pro blues jam, at the newly remodeled Longboard Margarita Bar in Pacifica. The model was in place to bring the Bay Areas top blues artist as a guest of the jam, thus needing to put together a stellar crew to qualify the event. Moving forward with the new crew CRB hits the local music scene with a blaze. Moving into its 2nd year CRB now brings an awesome pallet of blues, funk, R&B and, blues rock. Look for a diverse buffet of energized music to move your soul.
CLICKABLE LINKS
WEB – www.carmenrattiband.com
FB – www.facebook.com/BLUESCRB/
ReverbNation – www.reverbnation.com/DCPE